What is milk fever? It is a disease that often occurs within 72 hours post calving, it is a calcium deficiency that mostly occurs in older cows since they are not able to mobilise calcium from their bodies fast enough to fulfil the calcium demand for milk production. Milk fever is strongly related to dry cow management and feeding during this period. The disease often occurs around calving also keep in mind that it can occur in a later stage of the cow's lactation.
SIGNS AND SYMPTOMS OF MILK FEVER
Grinding teeth
Shivering
Cold ears and rump
Falling and trembling cows
Difficult open mouth breaMthing
Abnormal pupil reaction to the light
No milk production
Abnormal reflexes.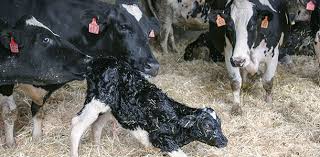 MILK FEVER STAGES AND SYMPTOMS
In brief there are three stages of milk fever:
Stage 1: The cows will tend to stagger and shiver on her flanks, the cow will be restless and frequent bellowing. Without treatment cows will progress into stage two, which is more severe.
Stage 2: In the second stage cows are not able to get up, but can still lie down in a normal way. The cow will feel cold on her ears and rump and her heartbeat will be less powerful this is because the cow loses muscle strength hence not able to digest any feed. Treatment is very necessary at this stage.
Stage 3: At this stage cows tend to lose consciousness. Cows will lie on their side and are paralysed since the heart is not able to pump enough blood leading to increased heartrate.
TREATMENT
Since milk fever is a disease caused by poor management , the main treatment is prevention as they say "prevention is better than cure". Adjust your feeding management during dry period. Cows that usually suffer from milk fever should receive additional calcium. When cows are in stage one an oral solution of calcium can be applied to the cow, which will slowly distribute into her bloodstream. When cows are in stage two or three, an intravenous injection with calcium and magnesium should be given.
Discuss with your veterinarian or animal health provider how much the cow should receive, as this differs per breed and size of the cow.
Also read our article on Management of heifers